About Us
Integrated Approach
Our Integrated Approach
We pride ourselves in our integrated approach to Joint and Spine Care. Our goal is to provide top-quality medical care that meets your individual needs. That's why you can always expect:
Friendly staff and the highest-trained physicians in a patient-centric environment
Thorough explanations of your condition & treatment options
Up-to-date treatment rooms & equipment
What's more, we actively pursue continuing education above and beyond state requirements, so you can be confident that you're being cared for by an informed professional who understands your condition and how to help you get back to your life.
A personalized, hands-on approach for better results.
We know that the success of your therapy program depends on creating a strong relationship with you. That's why our care is based on manual therapy. We believe the human touch is essential for effective evaluation, care and treatment. Plus, we'll always treat you with kindness, honesty, respect and the compassion you deserve.
If you're a referring physician, you can expect prompt reporting, easy scheduling for your patients and a high level of communication. Doctors know that we go out of our way to work closely with them and their patients throughout therapy and rehabilitation. Also,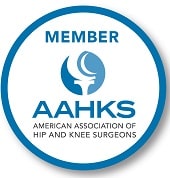 employers appreciate the way we get workers better and back on the job.
To schedule an appointment or referral, call the Florida Joint & Spine Institute location closest to you.
Florida Joint and Spine Institute is a member of the American Association of Hip and Knee Surgeons
MISSION
The mission of the Florida Joint and Spine Institute is to ensure those with joint and spinal disorders receive the most advanced care possible.
We are focused on providing our patients with most appropriate treatment as well as the most up-to-date information to help them understand the course of treatment.
We recognize that our patients are the most important members of our team, and we are committed to maintaining a dignified and compassionate atmosphere in which to care for them and build a partnership with them.